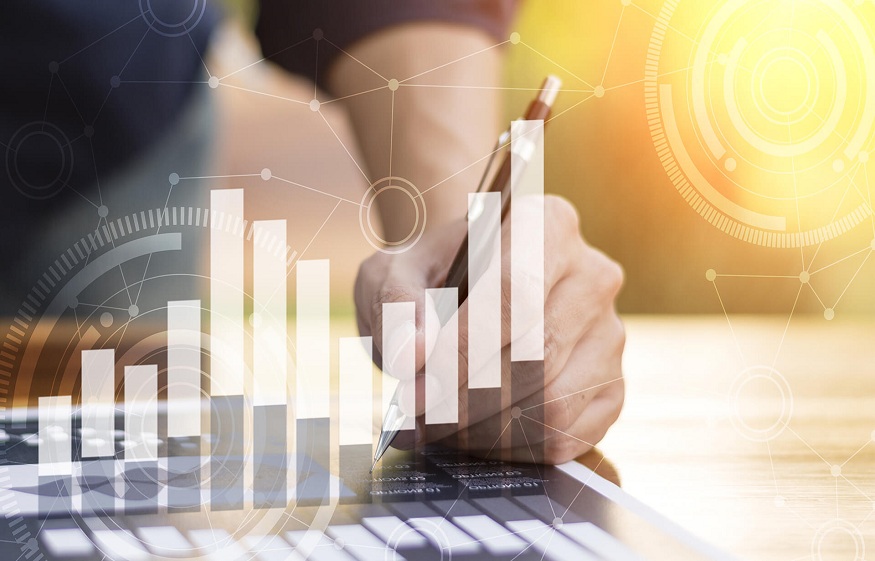 Different types of growth exist within a business strategy . Analyzing these different types is essential for any business that wants to keep an eye on its growth and keep that growth positive.
Why analyze the growth of your business?
As an entrepreneur, it is very important to know how to project your business into the future as soon as it is created. This is why it is important to analyze the growth of your business in order to establish several growth strategies and to learn more about the place your business is taking on the market. This is why many tools will be made available to you in this article.
There are several ways to analyze the growth of a business. There is the scientific way where we calculate the growth rate of several data. There is also the way to observe the internal evolution of your company. It is always important to know how to sell your goods and services well in order to develop your structure.
Calculate Economic Growth Rates
Analyzing the economic growth of a company makes it possible to realize its commercial capacity, on a case-by-case basis. This rate remains a perfect indicator for measuring the speed of development.
The growth rate of total assets is calculated as the difference between total assets at the end of the year minus total at the beginning of the year, divided by total assets.
Define your long-term goals
If you want to analyze the growth of a business, it is important to know how to plan for the future. One of the main points of this analysis is to define long-term objectives.
Organic or internal growth
The definition of organic growth is the increase in production as well as sales of goods and services internally. This growth in sales and production exists thanks to the company's own funds. It is contrasted with inorganic/external growth.
The organic growth strategy represents the maximization of internal growth within the company. A company can increase internal sales in different ways, by optimizing sales and production, reallocating resources, or through new product offerings. New geographical markets make it possible to identify priority countries for the development of its activity.
Internal optimization
Optimizing a business refers to improving the process of reducing manufacturing costs. It is also about defining good and appropriate pricing strategies for its products and services. In order to reduce a company's production costs, funds must be allocated to find better performing products.
It is therefore necessary to have faster and more resistant machines to reduce manufacturing time without reducing its quality. While the new product offerings aim to expand its business in the market, they allow it to occupy larger market shares. By acquiring new customers, this generates an increase in profit and therefore in the GDP of the site or the country where the wealth is created.
Production increase
The company's internal growth strategy is to increase production of your company's current product(s). This only holds if your company has enough customers, and the increase in your supply will not be exaggerated in relation to the demand. This strategy is a double-edged sword, you have to check your market share because this strategy can have perverse effects. This is one of the most expensive and time-consuming, but if successful, it will definitely lead to great growth for your business.
Development of new products
Developing one or more new products represents a growth strategy that consists of adding one or more new products to your marketing projects, depending on the industry you are in and current fashions.
Bringing a new product to market may have some economic value. Whatever the cost, adding a new product to the market can attract new customers from other countries and thus increase the overall size, with an impact on GDP. This strategy of internal economic growth is very rewarding for a company. However, a certain expertise is required when embarking on the creation of a new product. The prospects of this new market must be analyzed in order to adapt the offer to their individual characteristics (age, level of education, ethnicity, family situation), to their social relations (family, friends, colleagues , associations, opinion leaders), their cultural elements, and their personal elements (lifestyle, motivation, attitudes, changing needs, latent needs). In this case, this will make it possible to know the needs and expectations of customers in new countries of establishment.
In business to business commercial relations, it is a question of knowing the characteristics and needs of the customer (Sector, turnover, workforce, location), their internal and external relations (customers, suppliers), their internal considerations (Budgets, purchasing, purchasing procedures, market share, growth, competition, number of sites).
This analysis of the environment makes it possible to leave nothing to chance. To identify market segments, the following questions arise: What are the most important customer segments? Where is the growth potential? Which segments are in decline? Knowing these customers will allow us to answer the following questions: For what services and products are customers really willing to pay? Where can the highest margins be achieved?